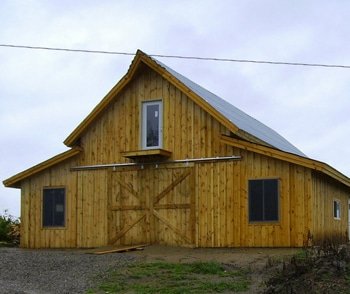 After weighing up the pros and cons of building a pole barn home, I've decided that it's the right time to get my new project underway. My first idea was to design a pole barn house myself, but after realizing how affordable and convenient pole barn kits are – I quickly realized that it's much smarter just to invest in a quality kit.
In particular, I've decided to order a metal pole barn kit. The company I choose promises to have the entire thing delivered within 2 to 4 weeks, and considering the amount of material that's coming, combined with the great price I paid, I certainly can't complain about the delay.
In general, the kit promises to be make from top quality materials, and it obviously comes with the complete structural blueprints and plans that are needed to correctly assemble my new pole barn home. Overall, I'm really excited about getting my new pole barn built – and I'm just waiting for all of the materials to finally arrive, so me and a few buddies can get to work with the assembly! The instructions are also available online, and it seems pretty simple to construct, so I can't wait to get started.
Pole barn kits make it much easier to build your pole barn house overall, by giving you an inexpensive and quick way to build your next pole barn. Here are some ready-made pole barn house plans for more information go here https://plus.google.com/110212350348793109476/about