Here is a luxury pole pole barn house plan with a rustic exterior that is conveniently spread across one story with tons of windows for natural lighting. Imagine walking through this beautiful vaulted entry into a bright and spacious foyer inside.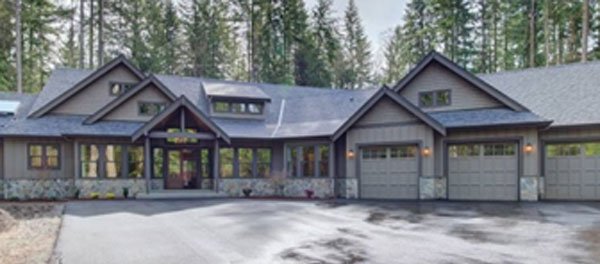 The dining room offers windows for views and an open, informal ambiance for a relaxed yet traditional vibe. The great room boasts a lofty cathedral ceiling with beautiful overhead beam details and high windows to maintain the airy and voluminous effect in the space.

The home's open-concept layout connects it to the kitchen, too. With a large island eating bar and tons of counter space, it's easy to cook and serve from here. There's also plenty of storage with a walk-in pantry in the corner and room for a double-wide fridge. The range has a classic hood above, and the microwave is easily tucked into the island.
The sink area provides ample elbow room and overlooks the sunny eating nook, which is perfect for quiet morning meals. Notice the barn doors here—they conceal the game room. This closed space rounds out an otherwise very open floor plan. Whether it's just the TV or rowdy teenagers, the game room helps prevent noise from spreading to the rest of the house.
The hallway on the right, near the dining room, leads to three bedrooms. This is the one farthest back. It has its own sink and shares a toilet and shower with the neighboring bedroom, which also has its own vanity. The laundry room is centrally located in this hallway and connects to the garage.
Then we come to the front-facing bedroom, which has its own private bathroom. Finally, there's a powder room beside the dining space to easily serve guests. In the short hallway on the left here, you'll find the den and master suite.
The den makes a bright and beautiful office. But it's the master suite with its own fireplace and covered patio access that steals the show. The bathroom has two vanities split around a soaking tub and a huge stall shower. The window faces to the side of the house and there's a private water closet for the toilet.
The forward-facing closet offers natural lighting, too. The back patio has plenty of space to enjoy fresh air while protected from direct sunlight and rain. The portion beside the great room continues the vaulted ceiling all the way from the front entry. The garage can park four, with three bay doors facing forward and one in back. There's also enclosed space for storage, exercise equipment, or whatever else you need. Come see different house Plans on our site if you'd like to make this amazing home your own.
Are you looking for the perfect house plans? Maybe you have decided on your house plans, but you are having trouble past that. Don't fret, the decision is an important one, but with some helpful tips, making a choice will be much easier. Continue reading to learn about what you should consider when choosing plans that will work best for you.
Home location
Do you already have a spot picked out to build your new home on? Or do you have a general idea of where you want your new home? It is important to consider the location of your new home when choosing plans. You want your home to fit in with the other houses in the area. No, it doesn't have to be an exact replica of the homes in the area, but it should be comparable. Not only that, but you don't want your new home to be excessively bigger or smaller than the others. If it is, when it is time to sell the house, you won't get as much for it.
Pole barn house plans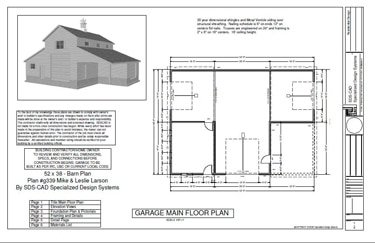 While your current lifestyle is important in your choice, so is your future. We know, no one can tell the future, but choosing a home plan that will fit you and your family for years to come is a smart choice. Do you have young children? They will get bigger, meaning space is important. Are your children teenagers? They may be moving out soon, so space may not be an issue.
Make a list
You will find it helpful to list all the things you want in your new home and all the things you need. Ranking the needs is helpful, too. When you see all the wants and needs in writing, you will use the list to make your choice much easier. Knowing exactly what features you need to create a perfect home gives you a great place to start.
As you can see, there are quite a few things you should take into consideration before you choose the pole barn home plans that will work best for you, your family, your location, and your situation. Use these tips as you look at house plans that could work for you and your family and it won't be long until you're sitting back and relaxing in your brand new home.
Barn kits make it much easier to build your barn house overall, by giving you an inexpensive and quick way to build your next home. Here are some readymade pole barn home plans.