How do you know when it's right?
For centuries there have been various forms of pole barns that have been built for shelter. Pole barn structures are built using poles as a basic framing structure which takes the load of the walls and the roof. Poles are rooted in the earth for rigidity which in turn help build strength around the structure. These same technique has always been used for centuries, and even though there may be a number of pole barn ideas with different plans and kits available, they still follow the same basic principles for building all pole barn with living quarters.
Over time, the materials covering most barns may have changed, from the original leaves, straw and animal skins which our ancestors used, to wood, metal, aluminum, plastic, and other modern synthetic sheeting materials. Pole building homes have always been popular because of their reliable means of providing shelter and storage, and require little money to construct. They can be built without any foundations or excavating of earth and most of these structures retain their original mud floors, and these are found to be very suitable for the function that most barns are built for.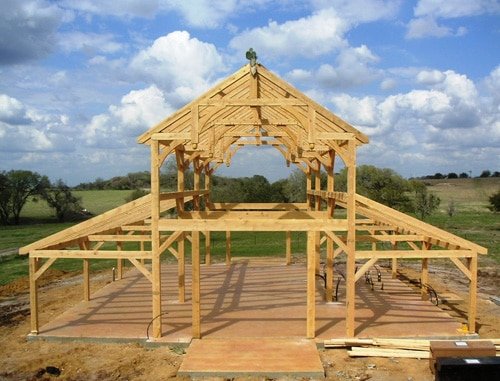 Timber frame barn kits serve as a great shelter for your animals, which allow you to build a number of stalls. There are plenty of ready-made plans which will give you a complete list of the materials as well as instructions that are required to construct your barns. This makes building much more stress free. Some of these plans will even offer a list of tools that you will need so that once you start there is no need not stop until your barn is complete.
Remember the poles serve as your framing members that get put into the ground to make for a firm foundation. It is best to use an auger to drill the holes to the required sizes and depth in the ground so that you do not have to do any digging. The poles can be made firmer with concrete by filling the gaps around the pole to secure it on the ground. The poles must go to a sufficient depth so that the structure formed can resist any wind uplifting pressures.
The roof on your structure should be allowed to slope to the front or back so that all water or snow is able to run off easily, and care should be taken to give your roof sufficient overhang so that the water does not fall near the pole foundations and weaken your structure. You can, of course, go in for different types of roofs, but this can make it more expensive when planning the framing of the roof.