Pole Barn homes
offer the ultimate in rustic, period living for people who want to live in the countryside and who want something that little bit different.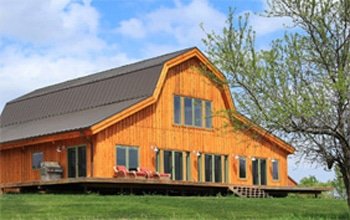 You have a few options when it comes to living in a barn home – you can opt for a barn conversion, or you can get a modern property that is built in the style of a barn, with a similar floor plan and a rustic timber construction, but without any of the restrictions that come with living in a barn proper.
One thing that a lot of people don't realise when they move into a real barn is that depending on the area they live in, and the age of the barn, they could actually be opting for a property that will be very expensive to maintain, and one that they would not be allowed to do much with.
Period properties are often restricted in that you would not be allowed to completely replace the roof with new materials, for example. In addition, in conservation areas, the materials you work with and even the color of the walls, doors, or roof, may be limited to whatever is already present in the area.
While you might like the idea of living in a period barn homes right now, once you find out how much a traditional thatched roof costs to maintain you might change your mind.
Buying a new property that is made in the style of a barn, with timber frames and a thatched-look roof, but superior insulation is a much better option than a period property.
You don't even have to make your barn home your period home if you don't want to – you can use them as a 'granny flat' or even your own guest home or man-cave. Some self-employed people use them as their own offices, rather than having a shed office or a spare room. They can make great gyms too, since they are large open spaces, and they can be configured in any way you want.
Think carefully about your lighting option s- clerestory windows are a good way to make a bright and airy apartment, for example, and will make the barn feel more like a resident than a 'warehouse' type structure. Your only limitation with the design when you build your own property is your imagination, and what you are willing to plan for.
Go here for your FREE shed plans https://polebarnhome.net/pole-sheds/