Are you looking for the
perfect house plans?
Maybe you have decided on pole barn house plans, but you are having trouble past that. Don't fret, the decision is an important one, but with some helpful tips, making a choice will be much easier. Continue reading to learn about what you should consider when choosing the pole barn house plans that will work best for you.
Location, Location, Location
Do you already have a spot picked out to build your new home on? Or do you have a general idea of where you want your new home? It is important to consider the location of your new home when choosing plans. You want your home to fit in with the other houses in the area. No, it doesn't have to be an exact replica of the homes in the area, but it should be comparable. Not only that, but you don't want your new home to be excessively bigger or smaller than the others. If it is, when it is time to sell the house, you won't get as much for it.
Plan For Growth, Or Not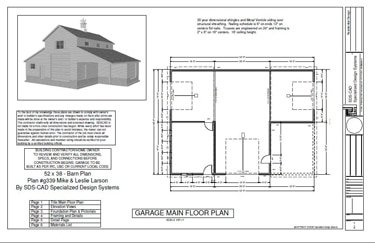 While your current lifestyle is important in your choice, so is your future. We know, no one can tell the future, but choosing a home plan that will fit you and your family for years to come is a smart choice. Do you have young children? They will get bigger, meaning space is important. Are your children teenagers? They may be moving out soon, so space may not be an issue.
Make A List
You will find it helpful to list all the things you want in a new pole barn home and all the things you need. Ranking the needs is helpful, too. When you see all the wants and needs in writing, you will use the list to make your choice much easier. Knowing exactly what features you need to create a perfect home gives you a great place to start.
As you can see, there are quite a few things you should take into consideration before you choose the pole barn home plans that will work best for you, your family, your location, and your situation. Use these tips as you look at house plans that could work for you and your family and it won't be long until you're sitting back and relaxing in your brand new home.
Pole barn kits make it much easier to build your pole barn house overall, by giving you an inexpensive and quick way to build your next pole barn. Here are some readymade pole barn house plans.